What Is Greenhouse Growing Medium? (And Why It's Essential For Your Greenhouse)
Posted by Cultivate and Equipment on 8 April 2021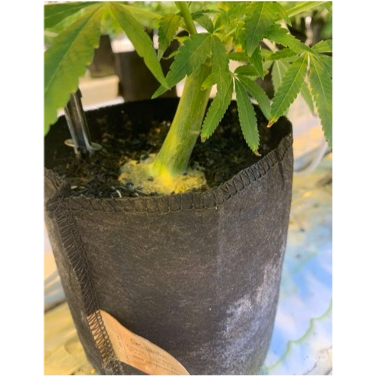 At Cultivate & Equipment, we listen to our growers and have built up decades of real-world experience in helping large, professional greenhouses across North America to grow. If you are a commercial grower and you are looking to learn more about what growing medium is and why it is essential for your greenhouse, you can trust us to provide you with the knowledge that your business needs.
What Is Growing Medium And Why Is It Essential?
So, what exactly is greenhouse growing medium? Whether you run a fruit, vegetable, cannabis, or flower greenhouse, it will need stimulus in order to grow. To give you a growing medium definition, the material in which your plants grow is known as the growing medium or media. Typically in commercial growing, this material isn't referred to as dirt or soil.
It is important that the environment and grow consistency is considered when choosing Growing mediums. Growing mediums can be made from all sorts of materials Non renewable materials such as insulation blocks, is the industry go too as this is inconsistent to grow in, as well as an incubator for fungus knats and root aphids. It is also expensive to dispose of after use and usually ends up in the landfill. Peat is also very popular grow media, which is environmentally harmful during the mining process and future banning of the product in Europe is evident. Coconut shells or coco peat also is used heavily in North Americian grows. Pure Life Carbon growing media consists of a high-quality carbon that comes in 3 consistent sizes. 3mil, 5 mil and 7 mil granular. The carbon is actually a newly developed biocarbon material known as Hortichar. The carbon grow medium will give the plant roots a very large surface for your plants to grow in. Carbon is known to be very porous, water and nutrient retaining, as well as a pest-deterrent, Fungus and insects cannot reproduce on the carbon grow medium. It is also impossible to overwater. This will produce a more vigorous root system, attractive foliage, earlier and heavier fruit yields. A good growing medium can even last upwards of 2,000 years without breaking down and that's why PLC wants your used carbon, as we will recycle and retreat the carbon for continued use as growing medium or feedstock for beef cattle.
Simply put, growing media for greenhouse production is absolutely essential. If you're serious about taking your commercial greenhouse to the next level, then you need to invest in good media. This can be the difference between a plentiful harvest and a poor return. Often, growers who pay the closest attention to the products they use, see the best results.
No matter what you are growing, any cultivation facility can benefit from Pure Life Carbon products. Whether it is fruit and vegetables, flowers or cannabis that you are harvesting, our advanced carbon-based medium products are your best option.
Where Can I Learn More?
At Cultivate & Equipment, we take pride in providing the best solutions for your greenhouse and agriculture needs. We have more than 40 years of experience in helping commercial growers from across North America increase their yields and get their crops growing again.
If you're based in North America and keen to help your commercial greenhouse to grow, then request a quote or contact us by phone at 1-844-253-0663.
Author:
Cultivate and Equipment